A Mom Says Thank You!
A Mom Says Thank You!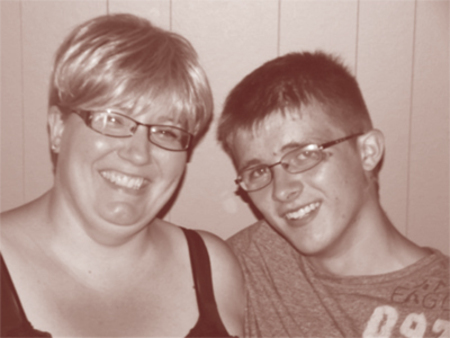 18 years ago I was a teenager. I was stubborn, thought I knew everything there was to know about anything, and I associated with some interesting people. Like I said, I was a teenager. Typical in a lot of things! I was also scared, nervous, and very pregnant. I found out I was pregnant in January of 1994. I was 17, my boyfriend and I were very much on again off again. And the stubbornness I carried around me like a shield kept me from seeking help where I needed it most. Until finally one day, I let my friends and family convince me that I needed the help that only the women at the Mount Forest Crisis Pregnancy Centre could give me. And today, 18 years and a few months later, I still thank God every day that I found my way there. That I had the strength to fight my fear and my own stubbornness and walk through the front doors. 18 years! I still can't believe it. My beautiful baby boy turned 18 this August. Now much more a man,yet always my baby boy. We did more than survive 18 years together….we thrived. For 10 years it was pretty much just the two of us. I did date one man for a couple of years, but for the most part…it was just the two of us, Shannon and Spencer. A family of two! I went back to high school, he went to daycare. I got a job, he went to kindergarten, and then grade 1, and grade 2 and so on. He was a happy boy. A mischievous boy! A smart and loving boy! And then when he was 10 I met a wonderful man, my husband, Kevin. Spencer and I moved to Hanover, and dating Kevin turned to love and after 5 months he proposed. We married 10 months later. Priscilla performed the ceremony. Brenda read a poem during the service. We included Spencer in the ceremony….writing our own vows to him. We were three that became one. A family! Time moves quickly in this grown up world. 10 months after we were married, my husband and I welcomed a daughter, Meredith. Spencer swore up and down that he wanted a baby brother to play catch with, but I know he wouldn't give his sister up for the world. He was the first one to see her, the first one to hold her. Their bond is stronger than I could have ever hoped for. Well, until she's been pestering him too much. But hey, that's what little sisters are for right? ;-) Life keeps moving along. My husband and I share a business, Moore's Mini Excavating in Hanover. And with his wonderful help and support, I went back to school to become an aesthetician. I now have my own little spa in Hanover. We own a cute little house just outside of town, where we raise our kids, chase our dog and relax on the river bed. Spencer has had his ups and downs in life. He went 13years without seeing his biological father, and then last year his father came home for a funeral. They met, and my son showed me that everything I had ever taught him about love, and family, and forgiveness was deeply ingrained in him. They don't have a relationship now, but this time it's on Spencer's terms. He forgave his father and moved on. Spencer is a typical 18 yr old teenager struggling to become a man. He keeps my husband and I on our toes, and we're never sure what he's going to say or do next. But he's a good person, with a kind heart and a quick mind. He's growing, learning about love, and life. He's finding his way. And though some days I wonder what on earth he is thinking, I know that I have given him a base to start with. He has his morals and values in place, and they are good. And I know that a big part of that is because of me. Because I was able to set aside my teenaged ways and become a great mom! But all of that comes back to all of you. For without your support, your love and your compassion, your prayers and of course, without God and Brenda to guide the way, we wouldn't be where we are today. I know there are people out there who like to talk negatively about Ramoth House, and about the women that work there. I've heard the talk, and I heard about the protest earlier this year. I know there are girls that walk in there pregnant and walk away empty handed, with no baby. I also know that those girls had a choice to make and they chose their lifestyle over their child. I know this, because I was one of those girls, and 18 years ago I had that choice to make. I made the right choice. Not the easy choice, or the popular choice…but the right choice. Largely because of the support and guidance provided to me from the wonderful women who have worked and currently work at Ramoth.
And without your support, Ramoth House may not exist. Ramoth House and all of the girls that come through those doors would not be where they are without your support. And for that, on behalf of all of us who have walked through those doors, I thank you. I don't know your names, or why you donate and support, but I love you all. Thank you so much for helping me thrive with my son for 18 years. Words will never be able to express what you all mean to me.
Thank you! Sincerely yours, Shannon Edgar-Moore